Dominique James,
360 Grille
Born and raised in Los Angeles, Dominique has always had a love for food. She first learned to cook from her grandmother, helping with the side dishes for family gatherings. The first dish she made on her own was her family's favorite short ribs.
Dominique graduated from Le Cordon Bleu in Arizona, moved to Alabama, and began working at Marriott Shoals as a prep cook in 2015. While working in Swampers and the Conference Center, she met her mentor Chef Garien Shelby. He and Chef Sam Browning, then chef at the 360 Grille, taught her skills like how to butcher meat, filet fish, and break down chicken. She absorbed as much knowledge as she could, quickly climbing the ranks from prep cook to lead cook, honing both her culinary and management skills. She moved to become a supervisor under Chef Sam at the 360 Grille, and was promoted to Chef de Cuisine in 2018.
When not in the 360 Grille kitchen, Dominique enjoys building Lego architecture sets and finding creative ways to express herself with food.
Born and raised in Corpus Christi, Texas, my first experience in the food industry was at the age of 15 at a small place called Town and Country Cafe. A few years later I met Chef Garien Shelby and he gave me an opportunity as a prep cook. I soon found myself consumed with passion for cooking. Taking the skills I learned at work, I would practice them at home. I became Sous Chef at Canebrake Country Club in Athens, Alabama and two years later I was promoted to Chef de Cuisine. My original mentor, Chef Garien called me to Marriott Shoals Hotel and Spa to become a Supervisor at Swampers Bar & Grille and my path quickly progressed to Chef in Swampers, then as Chef de Cuisine of 360 Grille and now as 360 Grille Manager. I am very grateful for my fiancé Courtney and two children Rhyen and Samuel Jr.
I started my career as an apprentice at Walt Disney World just over 20 years ago. After working my way through several hotel kitchens, including several years as Chef de Cuisine of 360 Grille in Florence, I was excited for the opportunity to help open Odette in downtown Florence, Alabama. The food at Odette is a reflection of my passion for global flavors and regional ingredients. When not working, I enjoy vegetable gardening and spending time with my two kids.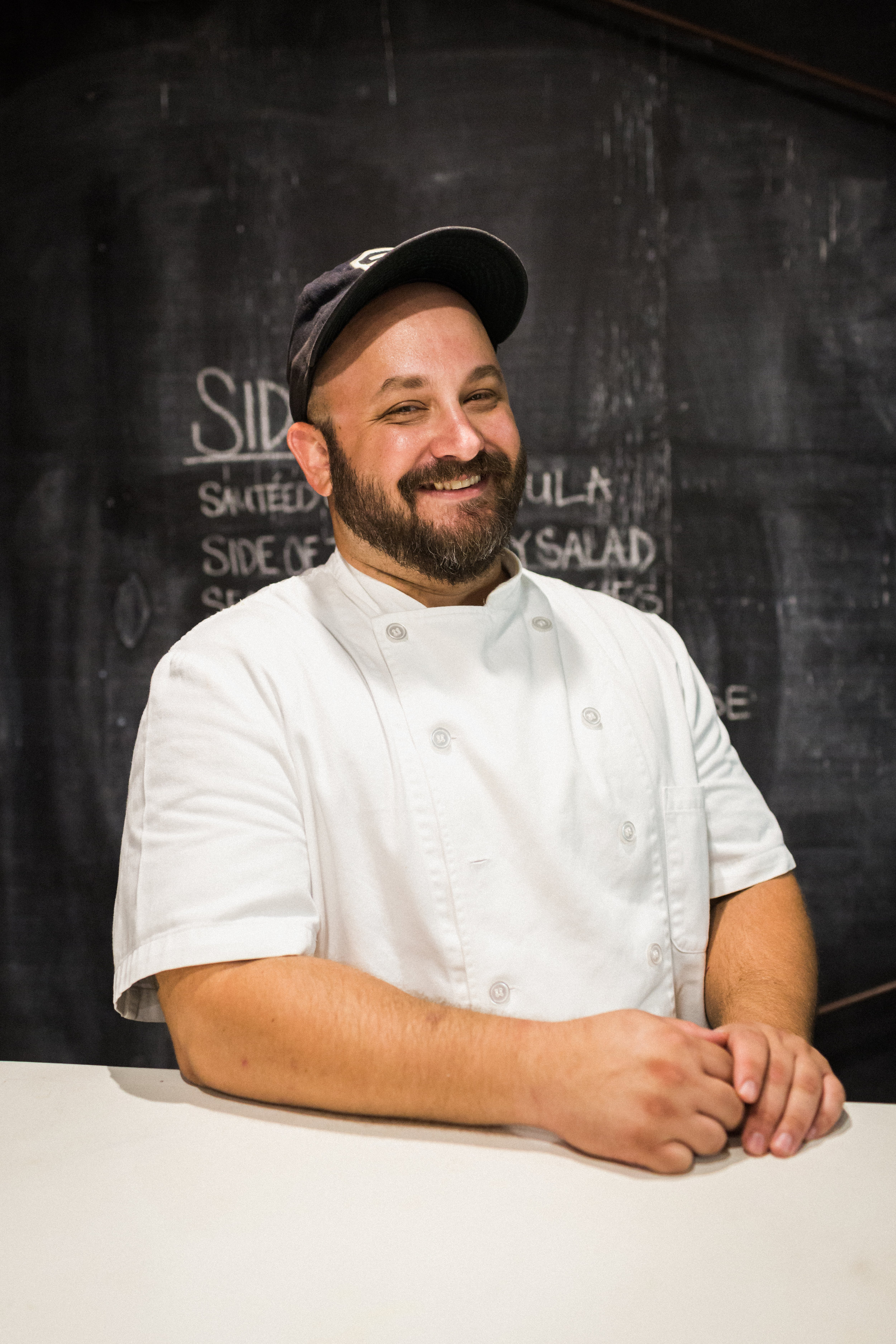 Kyle Ogden, Turtle Point Country Club
I started cooking while attending Auburn University in 2003. It was here I realized didn't want a normal 9-5 job. In 2008 I enrolled in the University of North Alabama culinary program, and in 2009, I began working at Marriott Shoals under Chef Josh Quick. It was here I learned about the seasons of food, creating as many items possible in-house, and sourcing only the freshest regional products available. In 2013 I helped to open Odette as the Sous Chef. In December 2015, I returned to the Marriott as Chef de Cuisine of the 360 Grille. I now work as Executive Chef of Turtle Point Yacht and Country Club in Florence. My goal is to continually push the food we create in the same direction: fresh, seasonal, and as close to home as possible.
John Cartwright, Rivertown Coffee Co.
John Cartwright has been serving fresh, local food in the Shoals for over 14 years. Rivertown Coffee is a part of the fabric of downtown Florence. His take on simple, southern food has been a staple in the community and will be for years to come.

Melissa Rebholz,
The Factory Cafe
Growing and cooking food has been a passion of Melissa's since she was a young child. She counts her Sicilian grandmother and mother - excellent home cooks - as her biggest influencers. After graduating from the Natural Gourmet Institute in 2009 she began working in NYC restaurants and relocated to an organic farm on the North Fork of Long Island. She's spent the years since honing her skills on a number of farms and in kitchens from Sonoma County to Eastern Tennessee. She owned and operated the River House Farm and Supper Club in Greeneville, TN for 5 years before moving to Florence, Alabama to head up the culinary program at Alabama Chanin's Factory Cafe. When she's not in the kitchen, you can find her in her garden.
Jeff Eubanks, Marriott Shoals Hotel & Spa
Executive Chef. Bio Coming Soon.
Garien Shelby, Marriott Shoals Hotel & Spa
Born in Manhattan, Kansas, I moved to Huntsville, Alabama while my father was in the military. I went to culinary school in Birmingham at Culinard and as a young "culinarian," I worked in Birmingham restaurants and local hotels, gaining experience until I opened a catering business specializing in weddings and corporate events. With time, I opened a gastropub specializing in craft beers and food pairings, then worked as a Chef Manager over Huntsville Hospital Main and the Women and Children's Hospital. The next move was to Canebrake Country Club as Executive Chef and Food & Beverage Director. I then came to Marriott Shoals as Chef over Swampers Bar & Grille. I was promoted as Executive Chef, and then as Food and Beverage Director. I'm blessed to work daily with 360 Grille, Swampers Bar & Grille, & Marriott Shoals Conference Center Chefs to create a fun, fresh, and phenomenal experience for guests hotel-wide.